Special Announcements
CSD Meal Service 2020

We are excited to announce that CSD's School Nutrition Department will be offering FREE breakfast and lunch to ALL our students! Meals can be picked up at one of our TakeOutSpots or delivered via bus to your local LunchStop. We are so thrilled to be able to offer this service to our community!

All children under the age of 18 (or under the age of 21 for youth with special needs) may participate in this program. Children do not have to be CSD students to participate. We ask that non-CSD students still complete our pre-order form to help us with forecasting orders.

ORDERING FOR THE WEEK AFTER NEXT:
*PLEASE NOTE: The pre-order time frame is open every Monday at 8 AM to Wednesday at 3 PM. Check back each Monday morning to place your order. You can also make your order a "standing order" so you don't have to fill out this form each week.

It's important to fill out this form if you plan to eat with us so we can adjust our ordering and staffing as needed!




Meals Received: The CSD School Nutrition department is transitioning to a new program called Seamless Summer Option, which is supported by the USDA. As we transition to this new program all students will be provided

BOTH breakfast and lunch meals.

We will not be allowing students to opt out breakfast. We encourage you to try our breakfast as it's an important part of a healthy diet! We will still allow children to opt out of taking milk. Providing both breakfast & lunch to our community ensures adequate nutrition and access for all.

Pick-up Process: We would like to thank you in advance for helping us minimize the spread of COVID-19. To support us in our efforts we ask that you wear a mask while picking up your meals. Also, in order to be sure that we are following USDA accountability guidelines, only parents/ guardians can pick-up meal for their students.

Late Meals: Students who have not received their meal by half an hour past the delivery time, or have any other queries, can reach out directly to our feedback email at meals@csdecatur.net or phone line at (470) 237 - 0368 ext. 7607 on meal delivery days that include Monday, Wednesday, and Friday.


Recent Changes to Delivery and Pick-ups: To accommodate the increased orders we are receiving, beginning the week of September 8, we will be adding additional meal pick-up locations called "TakeOutSpots." Meals can be picked up at our TakeOutSpots at Decatur High School, F.AVE, and Talley Street from 10:30 AM to 12:30 PM on Monday, Wednesday, and Friday. These locations are subject to change.

Changes to Ordering Process: We have added the option to make your weekly order a standing order. If you select this option, you will not have to submit orders each week. Please make sure when selecting this option that you select yes for all of your children individually. If you wish to stop your standing order, please email meals@csdecatur.net with the subject "Cancel Standing Order" to notify the school nutrition staff of the cancellation.

Thank you for your patience: We are still working out our meal service and delivery processes, and we appreciate the help and support we've received over the last two weeks. Thank you for your feedback and support of our school nutrition program! To submit questions or feedback email meals@csdecatur.net.


A reminder from CSD Nutrition: The Free and Reduced-Price Meal Application must be filled out each school year. (Even if you filled one out in the spring, you need to fill out a new one for the coming school year.) The online application for 2020-21 is now available in the parent portal at https://campus.csdecatur.org/campus/portal/parents/decatur.jsp. You only need to complete one application per household. Note that those eligible for free and reduced-price meals may qualify for other types of public assistance or services available during this pandemic.

ABOUT:

If you choose to have your meals delivered to a local bus stop, we suggest signing up for "Predictable Ryde" through the CSD Transportation Department. For more information about predictable ryde, how to register, and how to set up your app, please visit www.csdecatur.net/bustracker. The app is free, its purpose is to provide notifications as the school bus approaches your stop for meal delivery. Meals will be delivered between 10:30 AM - 12:30 PM. You are not required to sign up for a Predictable Ryde account to participate in the meal delivery program, but signing up does allow you to view your bus stop/LunchStop and plan for leaving your home in relation to virtual learning.

We will be providing meals on Mondays, Wednesdays, and Fridays, with extra meals provided to cover Tuesdays and Thursdays. You will receive these meals at a TakeOutSpot location or a LunchStop in your neighborhood. As our department transitions to providing free meals through the Seamless Summer feeding program, we will be serving both Breakfast and Lunch to our students. Providing both Breakfast & Lunch to our community allows us to ensure adequate nutrition and access for all. You can opt-out of taking milk if you choose to do so.

SPECIAL DIETARY NEEDS:
Please note that if you have a special dietary need, you must email sblack@csdecatur.net to see if any accommodations can be made. The forms for that are located under the "Special Diets" section of the "Menus" tab.

FREQUENTLY ASKED QUESTIONS:
Please see our FAQ flyer at the bottom of this page for more Frequently Asked Questions! As a reminder, you can email meals@csdecatur.net for assistance or call 404-807-2840 between the hours of 8 am - 3 pm Mondays-Wednesdays.

To find information on refunds and payments, please visit our "Payments" tab.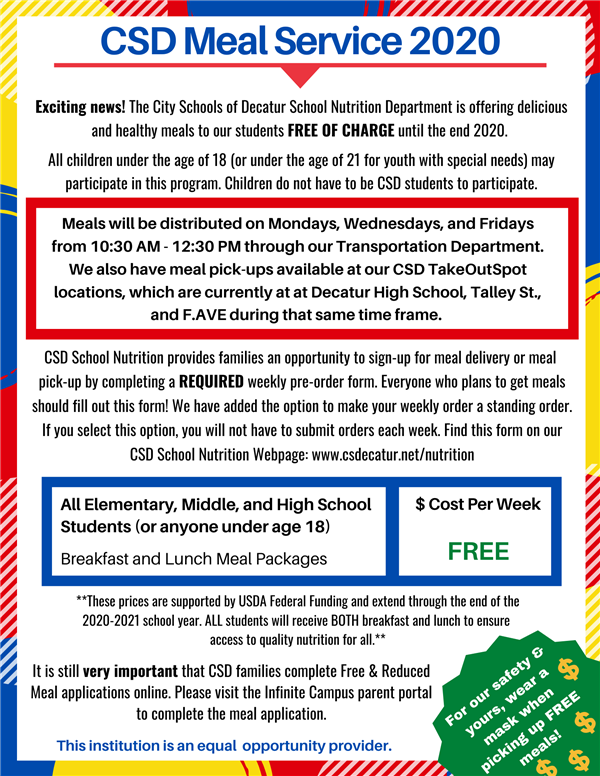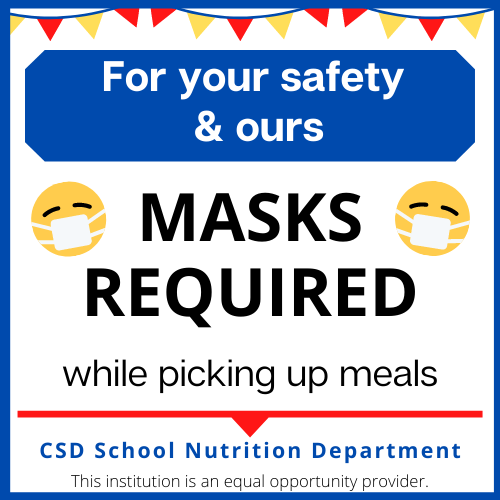 CSD Meal Service 2020: Important Documents
School Nutrition Program
The School Nutrition Program contributes to a successful academic experience and encourages a lifetime of healthy eating by serving Decatur students nutritious, appealing, high-quality, affordable meals every day. Both breakfast and lunch are available to students at all schools.

Our school system participates in the National School Lunch Program and offers free or reduced-price meals to students who are eligible. Free and reduced meal applications are sent home with all students at the beginning of each school year. Parents are asked to fill out applications and return them to the school office. Only one application needs to be filled out for all members of a family. Applications must be turned in every year. The school nutrition office approves applications based on need and guidelines set up by the federal government. You can pick up an application for free or reduced-price meals at your child's school or at the City Schools of Decatur Central Office.
Nondiscrimination Statements
Contact Us
School Nutrition Director
Tiffany Lawrence, MBA, SNS
470-237-0368 x7606
tlawrence@csdecatur.net

Food and Nutrition Supervisor
Sarah Catherine Black
470-237-0368 x7608
sblack@csdecatur.net


Bookkeeper / Free and Reduced Applications
Cathy Chapman
470-237-0368 x7607
cchapman@csdecatur.net



ADDRESS

540 Kentucky St.
Scottdale, GA, 30079